The Love heart
The love heart built from reclaimed timber. It stands nearly 7 feet tall and is 4-foot-wide, it has 10 lights set in to the edge.
The love heart is a multi function feature that you can use to your desire. 

This is a beautiful feature to have photos in front of, the love heart will perfectly frame a couple. 

Some couples like to use the love heart as a place to house the order of service or table plan. 
Why not team the love heart up with a photo booth and use it to display your pictures. 
Hire the love heart along with the swing for just £50.00

We offer the option for you to use the love heart as a message board. Your guests can attach their message to the string. We will then bind these messages into 2 pieces of oak, one being engraved in your chosen text. 

A beautiful keepsake to look back on.
You have the option for quality hammered ivory or white card,
£125.00 for the message board option. 

Want to check the availability? Contact us today.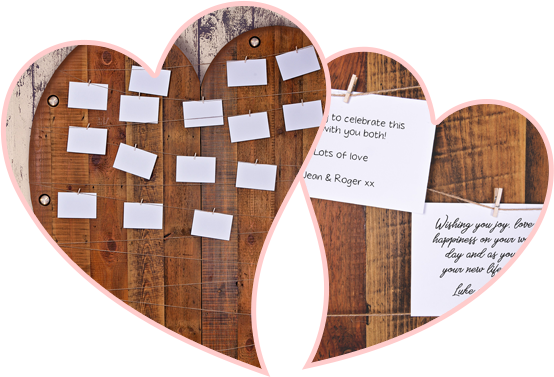 Oak Storyboards
Our Oak story boards are made from solid oak and are engraved with meaningful personal text that's is meant as a fun summary of your relationship so far, they make a great gift for the morning of the wedding and are a nice item to have on display at your venue,
60cmlong 36 cm wide 20 cm thick solid oak,
Price £110.00
Additional engraved items
We can make you Engraved wooden signs to put up at the venue (picture) as well as:
All of these items are made from solid oak and are finished with a hard-wearing wax oil blend.
Prices from £30.00
Rentable signs at £5

Giant Lanterns
These lanterns truly are giant, the stand 150cm tall and look fantastic, they will set the scene and look great at any venue.
When night time comes and you are ready for your disco/ band, the lanterns turn into giant party lights. They are fitted with sound reactive lights and will flash to the music, they wont be forgotten.
Hire from £100 a pair when hiring a swing.
Enquire for a price of the lanterns on their own.